Appearance in San Miguel de Allende, Mexico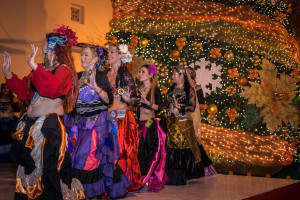 Der American Tribal Style Belly Dance (ATS) is an American group dance, borrowed from some of its elements from the oriental belly dance, modified and combined with elements from other dances.
Its origin goes back to the 1960s and 1970s, and the region of San Francisco (USA) back, the actual beginnings date back to the late 1980s. The American Tribal Style Belly Dance is thus a very young and modern dance.
Bärbel has started a few years ago with Egyptian Belly Dancing, to regular to do sports.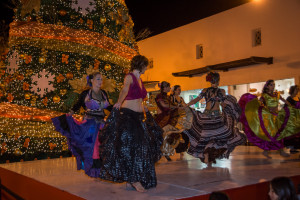 Meanwhile, she dances the American Tribal Style Belly Dance (ATS). As I said, Is she mainly to the regular exercise and so far they had little interest in the costumes used in performances and the idiosyncratic style make-up of American Tribal Style Bellydance.
Their internationally famous dance teacher Elsanne organized for the Bellydance group several times a year public appearances. So shall also participate in the pre-Christmas Bärbel in December with the dance group at a public appearance in the passage of the shopping center "La Luciernaga" in San Miguel de Allende.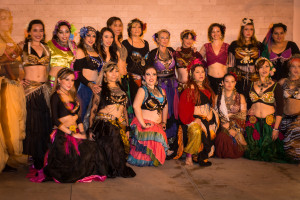 Many in the group are aged ca. 30 – 40 and practicing Bellydance since very many years, Some have been child days familiar. Nevertheless astonished Bärbel is about, as it suits their participation for this public appearance. Ups!
With Mittie be completed some private lessons, Costume and matching jewelry is organized and finally an appointment for making up for the "big show" is agreed.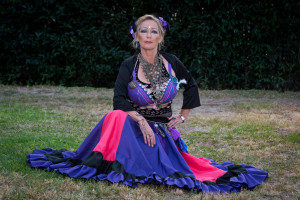 Most dancers styled himself, for which purpose the necessary utensils and also experience include. Therefore Bärbel can be make-up and hair done in a salon, in which the employees are familiar with the style of the ATS and have appropriate experience and utensils.
In appearance and dance teachers from the surrounding area are, so that a total of approximately 30 Participating dancers, of which only a part can be seen on the group image.
By entering the stage disappears at Bärbel stage fright and her dance teacher is very pleased with the performance of the Group.
Bildergalerie American Tribal Style Belly Dance (ATS)
"human, learn to dance, otherwise the angels know what to do with you."
(Augustinus Aurelius, 354-430)
https://www.reisestationen.de/wp-content/uploads/american-tribal-style-belly-dance-ats-2013-06.jpg
990
1485
Joachim
https://www.reisestationen.de/wp-content/uploads/reisestationen2.png
Joachim
2015-08-08 06:25:37
2015-08-31 07:07:54
American Tribal Style Belly Dance