Unicat Expedition Vehicle MAN L2000
4×4 Motorhome with truck chassis and high quality fiberglass cabin
An expedition vehicle type Unique MAN L2000 8.224 LAEC, the above switchable four-wheel drive, Differential locks and reduction features, After an intensive search for our motorhome.
What is an expedition vehicle?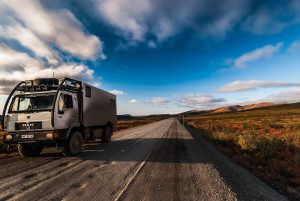 Expedition vehicles are off-road camper vans, which is characterized by a robust construction, distinguish good off-road capability and all-wheel drive.
The four-wheel vehicles of well-known manufacturers – such as. Archemobil, Unique, Action Mobil etc. – have well insulated fiberglass cabins, a strong heating, high-quality interior, plenty of storage space and large supply tanks. An intermediate frame with a corresponding storage protects the GRP construction before tensions, incurred by the interleaving of the chassis.
The base vehicle is usually the truck chassis of known manufacturers MAN, Mercedes, Volvo etc. used or even the Unimog.
With such an offroad vehicle sufficient reserves remain, around on gravel roads, secluded slopes and to be able to move safely in the terrain. Therefore, these vehicles will also arrange expeditions, World travel and adventure trips through Africa, Asia, North America, South America and Europe used.
Considerations for selecting the vehicle type
Our desire vehicle should the one hand, be large enough, to us on the road to be able to provide some comfort, On the other hand compact and terrain, to travel independently and safely even outlying regions can.
We had set the following features as a condition of the vehicle, since these are hardly retrofitted.
Minimum Requirements
Proven base vehicle
Four-wheel drive with locking
sufficiently large supply tanks
quality, safe construction
Passage structure / cab
Bett holidays (no rebuilding!)
Kitchenette with stove, fridge, Sink
Settee
good heating / large hot water boiler
separate shower / toilet room
plenty of storage space
These criteria specific vehicle minimum size and implicitly contained features of our motor home. Andere An- and fittings can also be retrofitted if necessary. Modded SUV or four-wheel RVs therefore not come into question. Only an all-terrain vehicle on the basis of a truck chassis meets these criteria.
Unicat Expedition Vehicle MAN L2000 8.224 LAEC
Our choice fell on an expedition vehicle of the company UNICAT. The most important technical data in a brief overview:
Chassis
MAN L2000 8.224 Lecca 4 × 4
Inline 6-cylinder turbodiesel
6.871 ccm, 162 kW/220 PS
6-Gang EATON gearbox
2-Speed ​​transfer case
Four-wheel drive, switchable
Differential locks, front / rear
Additional pneumatic suspension front
Tyres 365/80 R 20, tubeless
Tankkapazität 520 Liter (2 Tanks)
Dimensions: 635x238x335 cm (LxWxH)
Top speed: ca. 120 km/h
Zul. Total weight: 7.490 kg
Wohnkabine
440 Liter of drinking water in 2 Tanks
220 Liters of wastewater- / 80 Liter waste tank
30 Liter hot water tank
Water filtration system
Separate shower- and toilet area
9 kW hot-water central heating
2× 11 kg gas bottles
Batteries: 2 Piece 12 In / 255 Ah
Solar water heater 332 Wp
230V / 2.5KW inverters
Festes Bett 140cm x 200cm
3-Burner Gas Stove
fridge 130 Liter with *** - freezer
Bonocar window, Lewmar skylights
Interior dimensions: 448x224x195 cm (LxWxH)
Expedition Vehicle
Here are a few pictures around the expedition vehicle.
Vehicle baptism
We have our expedition truck to the name Gecko baptized, because even geckos in many climates the ground well to cope and even geckos are true climbers.
Further information on the expedition vehicle
All technical details
WLAN & WiFi in the RV
Installation of hard drives into vehicle
Our car search
countries, where we were already on the way to the vehicle
"The small rooms or dwellings direct the spirit to the goal,
the large distract him."
(Leonardo da Vinci, 1452-1519)