Bärbel Jewelry
Silver jewelry, Mokume Gane, Filigree, Fusion Glas, Kumihimo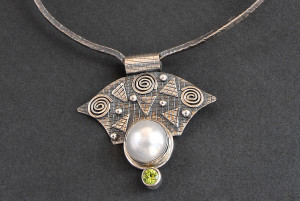 Baerbel's hobby is the design and techniques for making jewelry. The pieces are homemade and unique pieces.
Photo galleries on this page
For a better overview we have divided the jewelry according to specific techniques:
Photo Gallery »Fusion glass with silver jewelry '
Photo gallery »Mokume Jewelry"
Photo gallery »Filigree"
Photo gallery »Kumihimo braiding"
Fusion glass with silver jewelry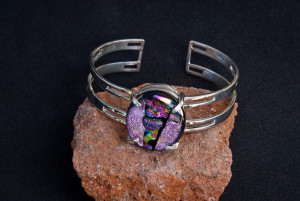 Bärbel processed in some jewelery itself produced fusion glass, so to speak, instead of stones.
These different colored pieces of this special glass are combined into a colorful pattern and then melted in a fusion oven at a piece of glass.
This creates unique glass blocks, give the set in silver even more unique jewelery.
Mokume Gane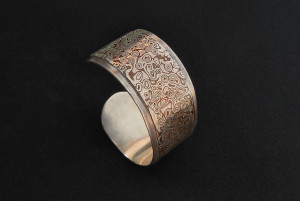 Mokume Gane is a centuries-old blacksmith from Japan. The name translated means "Wood grain metal" and characterizes the appearance of the gems thus prepared.
In the case of the Schmückstücken shown here 14 Layers of different metal sheets – mainly silver and copper – connected to a layer block, which is then rolled into a thinner piece.
The patterns emerge, by the workpiece e.g.. is processed with a hammer, so that penetrate the various metal layers or by twisting (twist) the block layer.
Additional information on Mokume-Gane can be found on Wikipedia.
Filigree
In the first filigree silver wires are knurled (gekordelt, twisted).
This silver wires are then processed into fine items, which are soldered at the contact points to a delicate piece of jewelry.
Kumihimo braiding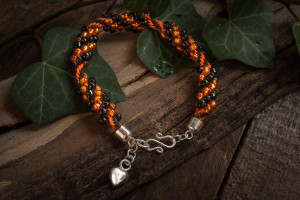 Kumihimo (Braided) is an ancient Japanese braiding technique, are braided in the cords from yarn.
By colored yarns, various materials and a targeted sequence in lichens, arise the diverse patterns.
"No craft without apprenticeship."
(Jean de La Bruyère, 1645-1696)