Communication
E-Mail, Snail Mail, Sipgate, Skype, Radio and Iridium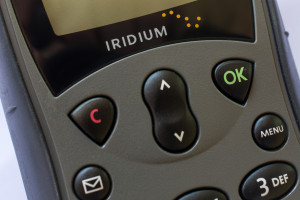 Since the first version of this text in 2008 online ging, has communication through mobile Internet and the Siegezug of iPhone, iPad, Android & Co. changes and new services significantly. At that time there were many services not yet or they only had a manageable user base.
Meanwhile, the broad masses uses all sorts of communication channels, such as email, Twitter, Skype, Facetime, Whatsapp, Facebook u.v.a.m. At first we have met travelers, had no e-mail address. This is now unimaginable! Even travel sites were not yet as prevalent.
Nevertheless, we would like to highlight the services, their combination has so far proved good for us. That does not mean, that we do not use other services, However, you have to set priorities.
Many services require a stable connection to the Internet, why additional WLAN & WiFi devices are meaningful. At least an external wireless USB adapter and an active USB extension cable should have.
A mobile device with Skype can be very helpful, so you can call or calls his e-mails during the city tour on an open Wi-Fi, if you have any SIM card for this country.
E-Mail
Inexpensive, decoupled quickly and in time. Still ideal for personal messages between travelers. For e-mails with other travelers, we share a common E-mail address.
Post from home via Sipgate
Important mail is sent us from home by fax to our old German fax number. The incoming faxes are automatically routed there by e-mail as a PDF attachment to us. This procedure has proven itself.
We use this Sipgate, which we also can send faxes via the Internet itself. It is still in front, that a document by fax is more acceptable, as the same document via email as a PDF attachment.
Sipgate has the advantage, that you can port their old telephone / fax number to Sipgate, so that you remain accessible worldwide at his old phone numbers over the Internet (Telephone, Answering machine, Telefax). We still have our old number, on an electronic answering machine is switched, whose messages we receive as an audio file via e-mail. We use Sipgate currently no longer on active calls.
Skype
With an appropriate Internet connection we use Skype to make free phone calls via the Internet. Almost all travelers now use Skype. In Skype, you can see, which acquaintances are online. Especially for travelers, which are often unavailable, this feature provides a great advantage.
Can or a fee on landlines via Skype. Call mobile phones. Skype unlimited calling for Europe can pay off even at a monthly Geschrächsdauer a few hours with the home. Another advantage: Who wants to be reached under the German phone number via Skype (Skype Online-Nummer), get this online number in conjunction with a Skype-month subscription cheaper.
Cellular phone
At the beginning of the trip we had our German mobile phones (prepaid) used, to be reached at a known point on the mailbox or by SMS. So we were able to stay in touch with each other, if we had to separate organizational reasons once. We no longer use this SIM card and have it disabled.
In Mexico, we now use Mexican SIM cards. We use this mainly to make phone calls to each other and for local calls.
Satellitentelefon (Iridium)
The satellite phone was purchased as an emergency phone for remote areas without mobile coverage. With Iridium are SMS, Mailbox, E-Mail (About Notebook) and Fax (About Notebook) also possible. Even a slow Internet connection is feasible.
PMR-Handfunkgeräte
The devices were useful before the trip for hiking and cycling tours. On the way we use them
such as mobile phones in the vicinity (No Coverage / No local SIM cards)
for ease of understanding driver ↔ referrers in difficult situations
for communication between two vehicles
Our hand-held radios can be operated with standard batteries, So have no permanently installed battery! Then they work, when you need them!
Kommunikationsverhalten
With family and friends, use the self no Skype, we will contact you regularly or. by appointment via Skype on landline, so we are not usually called from a landline. With all the other we are directly in touch via Skype.
Time indefinite callbacks (from. B. Company, Authorities) we try to avoid. We prefer to call at a later date at once.
Callback requests, we meet at the earliest opportunity via Skype.
Urgent calls / callbacks done by Iridium, provided that no viable Internet connection is available.
Otherwise we stay with the home and other travelers by e-mail or chat (z.B. Skype, Whatsapp) in Kontakt.
Other pages about Software, Electronics & Communication
Travel Software – Data Backup, Coding, Photo, Video, Audio
WLAN & WiFi in the RV, Caravan and mobile Expedition
Travel Electronics – Mains voltages, Batteries and accumulators