Electronic devices on the trip
Chargers, Mains voltages, Batteries, Batteries and travel adapters
Mains voltages, Batteries and accumulators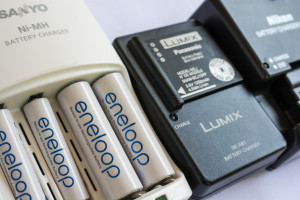 The large number of electronic devices used when traveling can be a fast track of the specified supply voltages, lose the types of batteries and battery required number.
As part of our travel arrangements we collect all existing electronic equipment in an Excel spreadsheet (s.u.).
For battery-operated devices the battery type is (AA, AAA, D, E) and the number of required batteries entered into the table.
For devices with external power supply, we assign the specified voltages (115 V AC, 230 V AC, 12 V DC), nameplate or user manual, each device in the table.
With a glance, the device can now be determined, which are limited in terms of supply voltages available (z.B. no 115 V AC).
The restrictions will be reviewed shortly and, if necessary. Defined measures (z.B. new PSU).
Excel table for travel Electronics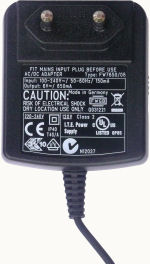 In our Excel spreadsheet devices can, Mains voltages and battery / battery types are entered.
The result is a practical overview, are automatically calculated in the same time the required quantities of batteries and accumulators.
The registered sample data be used exclusively for the understanding of the table, and does not purport to be exhaustive. Simply delete cell contents and enter your own data!
A Quick Start Guide is located in the Excel table (Rollover on cell "Quick Start Guide").
Download Excel table Travel Electronics
Buying new electronics for the journey
New devices should in principle from 100 V - 240 V AC (50 – 60 Hertz) and if possible with 12 V DC (z.B. Chargers, Mobile phones) can be operated. Often 12V car cable are available as accessories. So the device can be operated / charged without inverter or in the Car.
For new purchases should be based on Redundanzen be respected, so that the new charger, which actually for AA- and AAA batteries is intended, z.B. also can charge the battery of special camera. So spare already exists, when the charger of the photographic apparatus no longer works.
Battery or accumulator?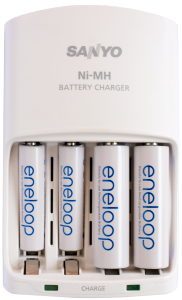 This question today is no longer really, perhaps in exceptional cases.
By NiMH batteries with low self-discharge (Sanyo / Panasonic Eneloop) Batteries can today also there are running, where you had previously used batteries.
We have a set of AA- and AAA batteries always fully charged in the charger at hand.
Furthermore, there is a small plastic box with multiple sets of charged batteries.
To load battery charger should be installed ready for operation on a firm place in the vehicle.
Can be loaded Ideally, even while driving.
Chargers in motorhome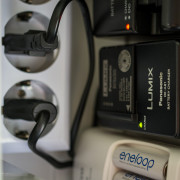 We have our chargers mounted with a strong Velcro strap in a corner behind the speaker to the GRP wall. Due to the velcro bands chargers for the mobile use are easy to disassemble. The hooks of the Velcro bands are secured to the wall, the fluffy part of the Velcro on the respective charger.
By mounting behind the speaker chargers / Cable / Barely visible from the front socket. The Chargers do not disturb and are always built.
We used the Chargers dug almost every night from a box and then put it to charge the various batteries under the table to the outlets. This has disturbed and annoyed!
It is now really handy, because the Chargers are tidy and always ready for use. Battery from the camera out, plug it in and ready. The fixed assembly can also be charged while driving!
Safety plug and travel adapter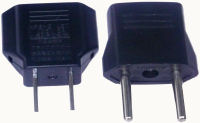 We have now bought several units in North America. Most units have been provided with a safety plug, so that they fit into the earth outlets of the vehicle. For some devices, this is not possible (z.B. Power Supply), what travel adapters are needed.
If the vehicle earth outlets available, should have enough safety plug (2half. & 3half.) and individual travel adapter (No sets) be taken. Move one finds almost only Sets, which are unnecessarily expensive because of the many superfluous Adapter.
Auch nibh, fit with those European plugs into North American outlets, may not be missing (z.B. Hotel or campsite).
UPDATE: In Wal-Mart in Mexico, we have found some cheap adapter for both directions, which there is probably also in the Wal Mart in USA.
Wikipedia: Country overview plug, Mains voltages and frequencies
Other pages about Software, Electronics & Communication
Travel Software – Data Backup, Coding, Photo, Video, Audio
Communication on the journey – Skype, Sipgate, Iridium und PMR-Funk/a>
WLAN & WiFi in the RV, Caravan and mobile Expedition