Panamericana Route
From Alaska to Tierra del Fuego along the Panamericana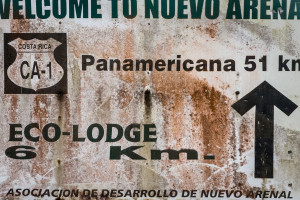 The route of our journey leads along the Panamericana Panamericana Alaska – by North and South America – Tierra del Fuego (Patagonia).
Alaska is located on the Pacific Ocean in the far northwest of the continent, and our starting point on the east coast of Canada in Halifax on the Atlantic.
In between are countless attractions, famous cities, endless prairies, the Great Lakes, der Trans-Canada-Highway (TCH), der Alaska Highway (ALCAN), der Dempster Highway und der Top-of-the-World Highway!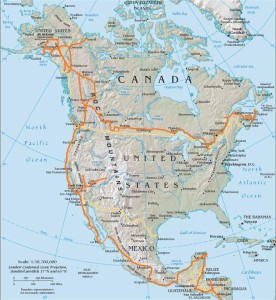 So about 15.000 km 'arrival "over five time zones, once across the continent through the wide Canada and up north to Alaska!
Southward we are guided by the longest road in the world, of the Panamericana, but do not hold at all costs to the course.
In Mexico, we first follow the Baja California to the south and reach there while crossing the Tropic of Cancer, the first tropical.
Following in the footsteps of Aztecs and the Maya is it then through Mexico, Guatemala, Belize and Honduras.
From Panama we will shipping to Colombia in South America, since the Panamericana through the Darien Gap is interrupted.
In Peru we want to go Nazca to the famous geoglyphs and in the footsteps of Inka according to Machu Picchu and Cusco.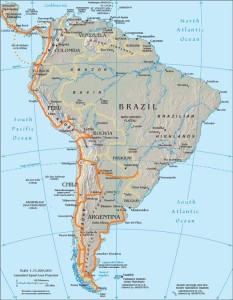 Some more travel stops are the Titicaca-See, that Plateau, Peace in Bolivia, the Atacama Desert and the Nationalpark Torres del Paine in Chile, the Iguaçu Falls, of the Nationalpark Los Glaciares, the National Park Land of Fire and the Peninsula Valdes in Argentina.
If all goes well, we celebrate New Year in Ushuaia, the southernmost city in Argentina and our southernmost point on the American continent.
We have created a rough route along the Panamericana, refine or change that we in due course. So we leave space for surprising events and remain open to unexpected detour.
Link Tip: Links to good information for their own travel to the Panamericana.
Copyright Notice: The cards come from The World Factbook.
Other pages on our Panamericana Tour
Travelogues from Alaska to Tierra del Fuego along the Panamericana
Things to do, Accommodation places and GPS data for the Panamericana
Our expedition vehicle
Panamericana travelers on the go
"One travels not only to arrive,
but above all, to be on the go."
(Johann Wolfgang von Goethe, 1749-1832)