Shipping
RoRo shipping and freight insurance
RORO shipping Germany (Hamburg) – Canada (Halifax)
The RORO shipping from Germany (Hamburg) to Canada (Halifax) We have Seabridge booked. The vehicle shipment to Canada was carried out with the Atlantic Container Line (ACL), which is part of the Grimaldi Group.

The RORO shipping to (Roll On / Roll Off) types of ships used to transport vehicles and containers. In
ACL
there is some information on the vessels used. Our vehicle was maintained by means of the "Atlantic Cartier" afloat. The booked Seabrigde RORO ships running in North America, the ports of Halifax (Canada), Baltimore (USA) and Brunswick (USA) an. Of the
Timetable of the Ro-Ro ships
can be viewed at ACL.
For the RORO shipping we had offers of Seabridge and TeMaCo present, where more than TeMaCo 10% has offered cheaper.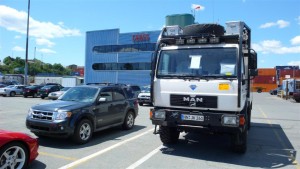 At Seabridge however could during vehicle shipment remain with us the key to the locked camper. Since we can close the passage between the cab and camper, we decided, despite the higher cost of the booking at Seabridge. The sea freight insurance (s.u.) for the Caravan was completed on TeMaCo, as this was much cheaper.
In Halifax, we should use the key for the camper but then leave the shipper, if a customs control would take place.
Between the vehicle handover in Hamburg and the vehicle pick-up in Halifax three weeks were. With the shipping everything worked fine and the organization by Seabridge was exemplary. We had no damage to the motorhome!
Info for vehicle pick-up in Canada are in the travel practice Canada Entry Canada to find.
Ocean Freight insurance Germany – Canada
The sea freight insurance for the shipment of Germany (Hamburg) to Canada (Halifax) we can offer us by Seabridge and TeMaCo.
The offer of TeMaCo was 30% cheaper. We have therefore insured through TeMaCo, although we have shipped with Seabridge.
The vehicle output in Hamburg we requested a condition report (State protocol), of against payment of EUR 69,- was created (is included in the above price comparison).
In Condition Report of the state of the vehicle is retained in the delivery vehicle. If damage is found during the vehicle pickup, can be demonstrated by means of the condition report for the insurance, that the damage in vehicle output was not available yet.
The condition report remains with the vehicle owner.
Completion of sea freight insurance carried on TeMaCo quickly and easily via email. Questions were answered promptly and in detail.
More Info for Sea Freight Insurance in Vehicle Shipping.
Addresses
ITLD (formerly TeMaCo)
Hasel shot Alley 11
D-76872 Steinweiler
Car: +49 152 01785631
Telephone: +49 6349 9909940
Telefax: +49 6349 9909920
E-Mail: info@itld.eu
Worldwide RORO shipping: Europe, North America, South America, South, Asia, Australien etc.
Seabridge
Wilhelm-Heinrich-Weg 13
D-40231 Dusseldorf
Telephone: +49 211 210 80 83
Telefax: +49 211 210 80 97
E-Mail: seabridge@t-online.de
RORO-shipping between Europe and North America / South America
Links for RORO shipping Europe / North America