Workshops
Help for the motorhome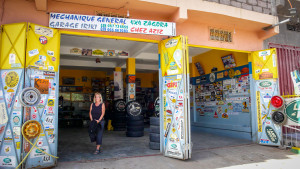 With whom we have had good experiences even addresses of workshops or have been recommended to us.
Canada
Whitehorse
Windshield Repair by rockfall
Glass Magnum Mobile Repair Inc.
George Sahlström
WHITEHORSE, YUKON
Telephone (867) 668-2484
Rockfalls are not uncommon in the far north. George comes to the Repair of stone chips on the Hi Country RV Park. You can call him directly or have someone call from the front desk.
Langley, B.C.
Mross Import Service Ltd.
25450 80th Ave., Langley, B.C., V1M 3M9
Telephone: (604) 888-6228, Telefax: (604) 888-3861
Website: unimogcanada.com
We know this workshop not personally, but have heard them several times. Besides Unimog other trucks to be repaired.
USA
Salt Lake City
GBR UTAH (earlier: Great Basin Rovers), Mr Bill Davis
342 West 1700 South, Salt Lake City, OUT 84115
Telephone: 801 486-5049, Telefax: 801 486-5029
E-Mail: gbrovers@aol.com
Website: gbrutah.com
Bill has a workshop for Land Rover, but mainly sells Land Rover Parts, he sent nationwide. He calls a nationwide the nearest Land Rover workshop, which can install the spare parts. For our MAN his goal was a bit too low, so he shares his friend Clark (s.u.) has referred.
Salt Lake City
REGENT ST. SERVICE, Mr Clark B. Dodson
1190 South State Street, Salt Lake City, Utah
Telephone: 801 487-6077
Well-equipped workshop with metric tools. It will be repaired all types of vehicles, even European models (Land Rover, Porsche, Audi, BMW etc.). At Unimogs has already worked, now also on a MAN. The mechanic Ryan has previously repaired truck. The work has been done to our satisfaction.
Mexico
Quéretaro
MAN Truck & Bus Mexico S. A. de C. In.
That. Rosa de Viterbo S / N; Lot 7; Apple II, FINSA Industrial Park,
76246 The Marqés; Qro
Telephone: +52 (442)153 70 00
Ecuador
Guayaquil
MAN branch
An der E40: S02 ° 10.941 W079 ° 49.141
We know this workshop not personally. Our friend Thomas sent us the coordinates.