Vehicle search
We do not want any living vices!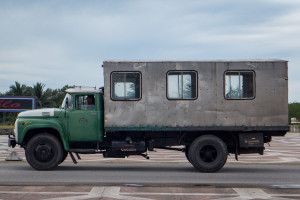 We have also read many reports in the search for "our" car, like other travelers have come to their vehicle in front of us.
These reports provide an in difficult phases of unsuccessful search the hope, that will eventually still find a suitable vehicle.
As it turns out, not only with us, this happens often quite unexpectedly.
The trade fair
Following the goal, To be able to undertake travel in the future in any season individually in areas away from the usual tourism, it requires an appropriate vehicle for.
On the spontaneously visited CMT in Stuttgart, we therefore searched for suitable for winter conditions, four-wheel drive motorhomes, what lack of offer was not very productive. In one of the last buildings then stood, actually at the show a little out of place, an expedition vehicle with lifting roof of Bischoff & Cheque - the Manitou.
As probably the most visitors, we visited this vehicle more with the mental attitude of a Concorde Besichtung the Technik Museum Sinsheim, as with any purchase intentions. With this model we could not do much at this time. Such vehicles are intended for research or sheikhs, not for individuals.
We are interested in Motorhomes!
We do not want any living vices!
The learning curve
Such impressive encounter remains of course not without consequences and at the first opportunity to do research for this type of vehicle on the Internet. It quickly became clear, that these vehicles are not only suitable for week-long desert expeditions in the absolute solitude, but thanks to strong heating for the cold inhospitable areas of the planet.
Almost as soon we realized, that the company UNICAT seems to be a leader in this field worldwide. Even faster the learning curve has been run through in terms of delivery time and cost of a brand-new expedition vehicle class. This curbed the first sign of interest.
Die Search
The time-consuming search for suitable four-wheel campers remained unsuccessful. As if by chance, were discovered by us at the same time more and more manufacturers of expedition vehicles and matching dream destinations with adventure character.
Chance there were bargains from well known manufacturers to buy, said the offer was very manageable.
The offered DIY-Vehicles, partly due to very old chassis, could not really convince us. also: Who will help you with future problems with the DIY vehicle? Are there plans? Are there any spare parts? First calls were conducted. Research, Research, Search and wait, what is happening on the market. Nothing happened – at least almost nothing.
RVs are no longer interesting.
We want a living vices!
The half-hearted decision
An already longer under our observation standing and offered by private vehicle manufacturer Action Mobil was visited at Hannover.
In an effort to compensate for our lack of expertise by carefulness, the owner patiently answered many questions during the execution of our multi-page checklist.
From us a to-do list for the performance after a purchase work was created. Temporary strongly clamped, the question arose, whether we should really impose this work. Two weeks after the visit we had – lack of real alternatives – opted for the vehicle. The feeling remained uncertain! In hindsight,, It was just not "our" car.
Before a final commitment still some details should be resolved in the next few days.
The Long Night of the right decision
Then everything went quite fast. Although we had almost decided on a vehicle and had scoured until the weekend once all known sites for alternatives, Tuesdays we discover by chance on a used mobile.de, but completely renovated UNICAT expedition vehicle. Looked at the UNICAT site. In fact! UNICAT offers a used UNICAT Expeditonsfahrzeug to. Where that comes so suddenly ago!?
On Wednesday an appointment to see the UNICAT CEO. Informative and nice conversation, impressive company, impressive Products. During and after the trip there was only one topic to 3:30 Clock in the morning. From all sides the forthcoming decision was illuminated. By months of research we knew now quite accurately, what we wanted. It was clear, that this vehicle could be sold within days. Furthermore, we did not even have the manufacturer and the market leader in 100 km as competent partner for future maintenance.
Thursday morning we called in and said to UNICAT. Friday the purchase agreement was signed on the spot and discussed the work which remains to. On Saturdays we have canceled the seller of the Action Mobile.
We have our living vices!
Other pages about vehicle
Unicat Expedition Vehicle MAN L2000 8.224 LAEC
All technical details
Links & Addresses of professionals for the expedition vehicle
countries, where we were already on the way to the vehicle
"Search not the adventure,
but do not go out of his way."
(Far Eastern wisdom)