Partnachklamm, Breitachklamm, Leutaschklamm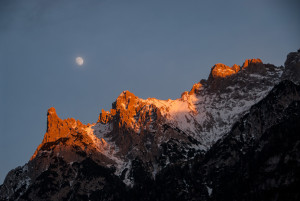 After major and minor delays our vehicle in mid-December was finally completed, that we could take a first test drive.
In addition to the recovery request, we had the goal, "Live" to get to know the car and the technical equipment and to check for correct functioning.
We therefore decided, to undertake "in wintry foothills of the Alps is a" gorge Tour. In the prevailing freezing temperatures we were able to also test the same diesel-heating and hot water boiler extensively.
A list of change requests was created and maintained. So fast were the points are identified and collected, that should be changed on the vehicle. Part mundane things (z.B. lack of coat hooks), but also quite relevant malfunctions (z.B. 2te alternator is not charging) were discovered.
The rough planning our itinerary took us to Partnachklamm (Garmisch-Partenkirchen), Leutaschklamm (Mittenwald) and Breitachklamm (Oberstdorf). The days in between was spent hiking, spontaneous things and day trips.
In Mittenwald it was quite enjoyable, as there are still no proper parking space, but only a graveled parking lot right next to the train station (hardly trains) are. This toll-free parking space was then, despite Karwendelblick also relatively empty and not as crowded, how the pitches around. Because of the central location of the parking space are not the supermarket and other shops far, and you can leave your vehicle. Directly at the train station there are also public toilets and containers.
Hiking trails are available around Mittenwald more than enough, and in a few days with ca. 15 Snow cm, It was really very relaxing.
During our time in Mittenwald also the lecture was "PANAMOBIL – from Alaska to Tierra COUNTRY" instead of, the we have not we miss.
Pictures
"For the height of the mountains is the toil of their ascent
by no means a scale."
(Friedrich Nietzsche, 1844-1900)
https://www.reisestationen.de/wp-content/uploads/allgaeu-19.jpg
990
1479
Joachim
https://www.reisestationen.de/wp-content/uploads/reisestationen2.png
Joachim
2015-08-08 05:49:24
2017-07-01 17:51:13
Gorge tour with the new motorhome