Overland to Morocco
Long we have been working on it, ticked endless task lists, countless appointments perceived, incorporated into the technology of the vehicle, Equipment, Purchasing tools and spare parts to be carried, Studied Travelogues, Purchasing information, Packed vehicle, the site prepared u.v.a.m.
Am 01.11.07 it finally happened and we start our first long-term travel, the ca. 4-5 Will take months. Our ultimate goal is Morocco.
Since we know the journey is the reward, we want on the road to Morocco nor Spain extensively explore.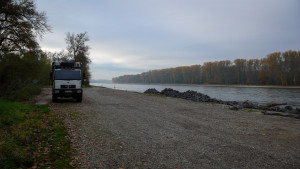 a 15:00 Is it going in Jagstfeld! Since we do not meet up with a friend, is our first overnight stay then also shortly before Karlsruhe on the Rhine Ferry Peter Pan.
Am Rhein we stand completely alone at night, 20meters from the water and out of the diesel engines of passing ships absolutely nothing disturbs the almost eerie silence.
At the bakery at the ferry dock, there are fresh rolls for breakfast. The perfect place for the night! So one more night ...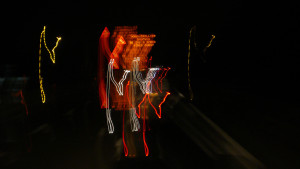 Now it is on the French side to the idyllic country roads along the Rhine towards Mulhouse and then the classic highway route in the south.
During the trip, some interesting pictures were taken, who we christened »Driving Dynamic Photography".
Shortly after the Spanish border - between Arenys de Mar and Caldes d'Estrac - we have discovered a great place right on the endless sandy beach, which we share a few days with a couple from Holland.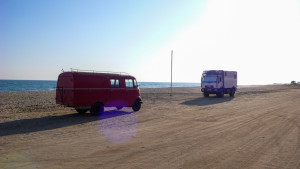 It should be this time of year, despite splendid weather hardly operation, so we can also enjoy the fantastic sunrises almost undisturbed.
Then continue south to Oliva (Valencia). On Camping Ole there are a few places dunes, the slightly increased between camping and sea are located directly on the endless sandy beach.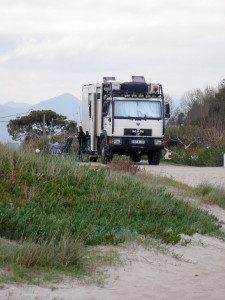 Just the thing for long beach walks and excursions in the nearby mountains.
3 Days we have reserved, then 9 Extended days and in the end we are all 20 Days on "the dunes".
This is of course the very friendly "dune dwellers". More nice neighbors are found likely on any campsite along the Costa Blanca!
At this point greetings to Helga, Udo, Anna, Gerd and all other! The departure really is not easy.
Now it goes to the National Park Cabo de Gata. The area is also known as Europe's only desert.
Pictures
"Vagabondage's liberation,
and the journey of life on all roads is freedom."
(Isabelle Eberhardt, 1877-1904)
https://www.reisestationen.de/wp-content/uploads/los-gehts-10.jpg
835
1485
Joachim
https://www.reisestationen.de/wp-content/uploads/reisestationen2.png
Joachim
2015-08-08 05:55:36
2015-08-30 20:09:53
Here we go! In motorhome to Morocco